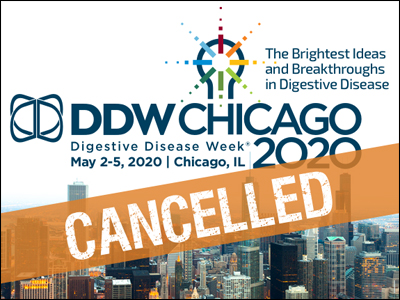 (March 18, 2020) DDW 2020 and all associated events, scheduled for May 2-5, 2020, in Chicago, have been cancelled.

While we are disappointed to miss the science, education and networking that are hallmarks of DDW, we must focus on the health and safety of our community. Thank you for your patience as we evaluated the status of DDW in light of the rapidly changing coronavirus pandemic.

We are exploring options for virtual education. For 50 years, DDW has advanced our understanding of digestive disease and helped us improve patient care – 2020 should continue that tradition. We will keep in touch as plans for distance learning come together.

Certainly, this cancellation raises many questions. We have attempted to answer them in this FAQ and remain committed to keeping you informed of new details as they form.

If you have additional questions, please submit a ticket to our help desk. This will help direct your question to the appropriate person and expedite a response.

Thank you for your patience.