---
ENDOSCOPIC MEASUREMENT OF MUCOSAL OXYGEN SATURATION IN POST-BARIATRIC SURGERY PATIENTS
Cem Simsek
*
, Dong Joo Seo, Christopher C. Thompson
Brigham and Women's Hospital, Boston, MA
Introduction
Measuring mucosal oxygen saturation may provide further insight into pathophysiology in post bariatric surgery patients. A new technology differentiates the absorption characteristics of oxy- and deoxy-hemoglobin, allowing real-time visualization of tissue oxygen saturation (StO2) levels during endoscopic examination. As such, we used this new method in post-bariatric surgery patients in an effort to find normal values as a foundation of further studies.
Methods
We performed a cross-sectional pilot study of post-bariatric surgery patients who underwent upper endoscopic examination with StO2 imaging from September 2021 to November 2021 in a bariatric endoscopy clinic. Only patients with a history of Roux-n Y gastric bypass (RYGB) and laparoscopic sleeve gastrectomy (LSG) were included. Patients with known gastrointestinal lesions, or any other gastrointestinal surgeries were excluded. We also collected demographics, medical history, gastrointestinal symptoms, and endoscopic findings. During the procedure, pseudo-colored oxygen saturation scale images were collected, for which the exact number of StO2 was quantified using dedicated software.
Results
A total of 26 patients, including 20 RYGB and 6 LSG, were included. The study population consisted of 24 females (92%) and 2 males (8%) with a mean age of 52 (± 13). In RYGB patients, the esophagus had the lowest saturation at 24% (± 19%) (p=0.050). StO2 level of the gastric pouch was 44% (±16%), and the gastric side of the anastomotic rim was 49% (± 16%). StO2 level of the Roux limb was 47% (± 19%). In two cases, the gastric remnant was also measured passing the endoscope through gastro-gastric fistula and a higher StO2 level was observed when compared to the pouch (31% vs. 85% and 56% vs. 81%). In LSG patients, StO2 level of the esophagus was the lowest although not being statistically significant. The proximal gastric sleeve showed a high StO2 level of 82 (± 10%), while StO2 levels of the distal sleeve and duodenum were 59 (± 25%) and 58 (± 20%), respectively.
Conclusion
This is the first study to evaluate StO2 level of the GI mucosa in post-bariatric surgery patients. In RYGB patients, the esophagus had a lower oxygen saturation than the distal GI tract. Also, StO2 levels in the gastric remnant was higher than the gastric pouch. In LSG patients, the proximal sleeve unexpectedly showed significantly higher StO2 levels compared to distal sleeve and duodenum. These normal values may lay the foundation of more accurate diagnosis of GI pathology in this patient population.


Figure 1. Oxygen saturation scales of gastrointestinal mucosa demonstrated by pseudo colored imaging from post-bariatric surgery patients. RYGB (A: Pouch, B: Remnant), LSG (C: Proximal Sleeve, D: Distal Sleeve)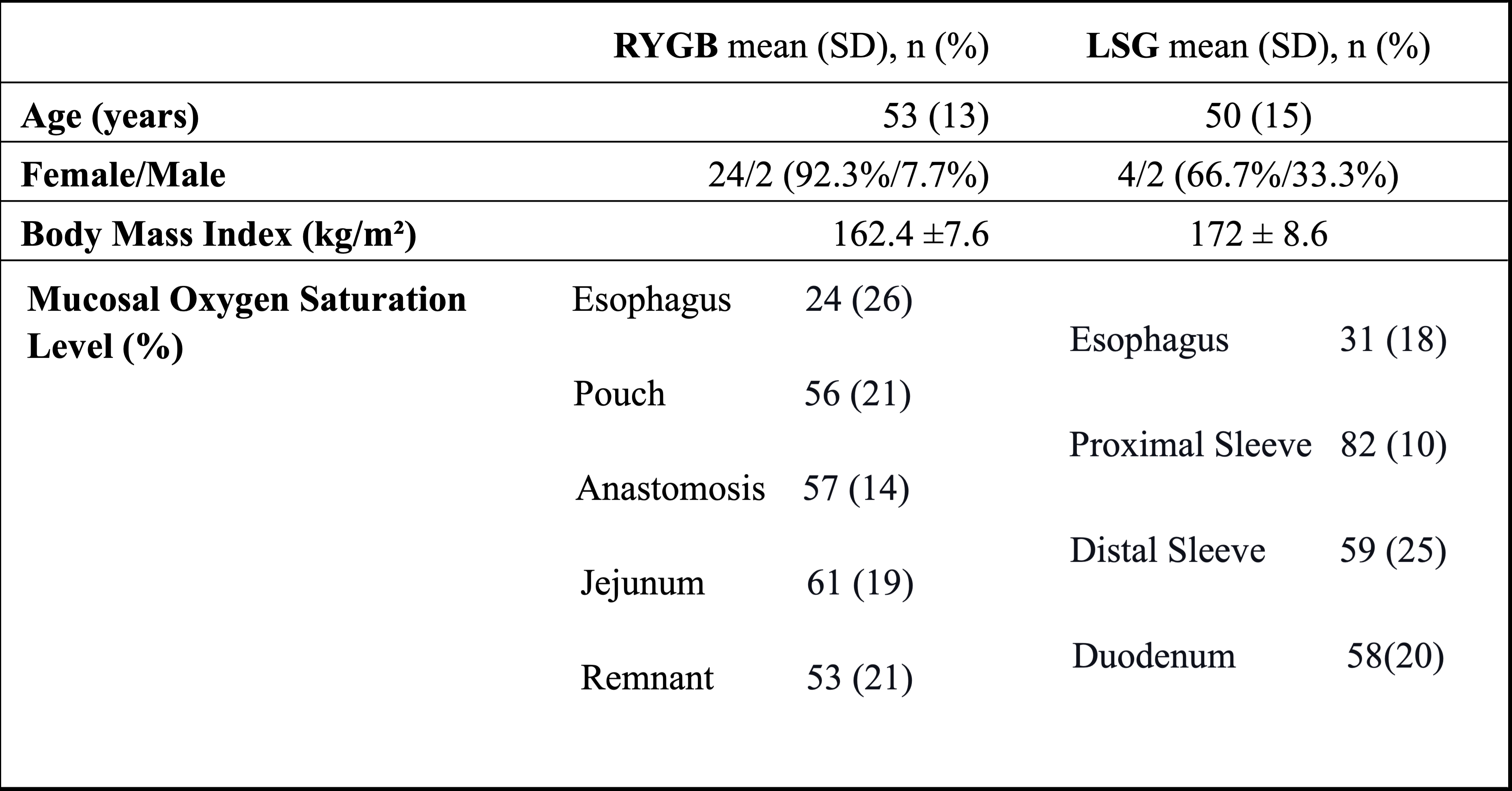 Figure 2. Table showing population characteristics and mucosal oxygen saturation values on both RYGB and LSG group

---
Back to 2022 Abstracts