---
PATENCY FOR AUTOLOGOUS VEIN IS SUPERIOR TO CADAVERIC VEIN IN PORTAL VENOUS RECONSTRUCTION
Thomas L. Sutton
*
, Victor Sandoval, David L. Warner, Gregory Moneta, Erin W. Gilbert, Skye C. Mayo, Amani Politano, Erin Maynard, Brett C. Sheppard, C. Kristian Enestvedt
Surgery, Oregon Health and Science University, Portland, OR
Background: Portal vein reconstruction is often needed during resection of hepato-pancreato-biliary malignancies. Primary repair or interposition grafting with either autologous vein or cryopreserved cadaveric vein may be required; however, relative patency and oncologic outcomes between techniques are largely unknown.
Methods: A single center review was performed for all patients undergoing portal vein reconstruction between 2007-2019. Primary patency was defined as time to first occlusion or intervention for patency-threatening stenosis, while survival-adjusted patency was defined as time to either first occlusion or death. Primary patency, overall survival, and survival-adjusted patency at 3 years were evaluated with Kaplan-Meier and Cox proportional hazards modeling. Operative time, costs, and clinical presentation of patency loss were assessed.
Results: One-hundred-twenty patients were identified with a median follow-up of 12 months (range 3-112 months, Table). Most underwent pancreaticoduodenectomy (n=102, 85%) or distal pancreatectomy (n=16, 13%). The method of reconstruction was primary repair in 28 (23%), autologous vein graft in 35 (29%), and cryopreserved vein graft in 57 (48%). Operative time and costs were lower for primary repair but did not significantly differ between reconstructions with autologous and cryopreserved cadaveric vein.
For primary repair, autologous vein, and cryopreserved cadaveric vein reconstructions there were two (7%), four (11%), and 29 (51%) thromboses, respectively. Most (n=20, 57%) thromboses were symptomatic with either new-onset ascites (n=13), abdominal pain (n=2), or gastrointestinal hemorrhage requiring intervention or admission (n=5).
On Kaplan-Meier analysis, 3-year primary patency was greater for both primary repair (90%) and autologous vein (83%) reconstruction compared to cryopreserved cadaveric vein reconstruction (33%, log-rank P<0.001, Figure). Three-year overall survival was 35% and not different between groups (P>0.4 for all comparisons). On multivariable analysis, reconstruction with cryopreserved cadaveric vein had independently worse 3-year primary patency (HR 7.89, 95% CI 1.87-33.2, P=0.005) and survival-adjusted patency (HR 2.09, 95% CI 1.13-3.86, P=0.02) compared to primary repair, while autologous vein reconstructions were equivalent (P>0.4 for both).
Conclusions: For portal vein reconstructions, primary repair and reconstruction with autologous vein demonstrate superior patency to reconstructions utilizing cryopreserved cadaveric vein. Reconstruction with autologous vein is recommended when primary repair is not technically achievable, as cryopreserved cadaveric vein is associated with high rates of symptomatic patency loss without benefits to operative time or costs. Frequent surveillance of patency in patients with cryopreserved vein grafts is recommended.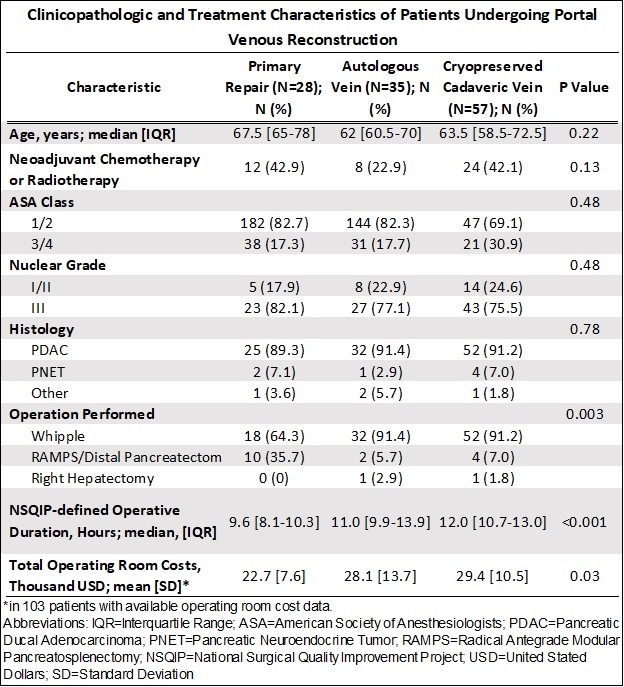 Kaplan-Meier plot of primary patency in patients with portal vein reconstructions. Primary patency in patients receiving primary repair and native vein reconstruction is superior to cryopreserved cadaveric vein reconstruction (log-rank P=0.001 for both comparisons).

---
Back to 2022 Abstracts