Back to 2018 Program and Abstracts
---
SENTINEL LYMPH NODE MAPPING FOR EARLY GASTRIC CANCER - PRELIMINARY RESULTS OF A PROSPECTIVE STUDY AT A HIGH VOLUME NORTH AMERICAN CENTRE
Carmen L. Mueller*, Rafik Sorial, Aya Siblini, Lorenzo E. Ferri
Thoracic and Upper Gastrointestinal Surgery, McGill University Health Centre, Montreal, QC, Canada
Introduction
Although endoscopic resection for early gastric cancer is well established, anatomical resection with regional lymphadenectomy is recommended for lesions with high-risk features for occult lymph node metastasis (LVI, poor grade, SM2/3). However 75-95% high-risk early gastric cancer (HR-EGC) patients ultimately have node negative disease, and could potentially have undergone organ-sparing resection. Due to the inadequacy of standard modalities to reliably rule out nodal metastases in HR-EGC patients, sentinel lymph node (SLN) sampling was developed in Asia with promising results. This technique has never been trialed in a North American context. This study aimed to test SLN sampling for North American EGC patients at a high volume regional centre.

Methods
All patients with biopsy-confirmed Tis-2 N0 M0 gastric adenocarcinoma were eligible for enrollment. Esophageal and GEJ cancers were excluded due to the high rate of thoracic lymph node involvement. Peri-tumoural submucosal injection with T99 radiocolloid was performed endoscopically 24-30 hrs prior to surgery. Methylene blue dye injection was performed after induction of anesthesia. SLN basins were identified as those having >10% of baseline tumour radiation signal or blue color (Fig 1), or both. After basins were individually dissected, standard laparoscopic anatomical resection was then performed with D2 lymphadenectomy. (ClinicalTrials.gov Identifier: NCT03049345). Data are presented as median(range).

Results
From July 2016- Nov, 2017, 182 patients with esophagogastric adenocarcinoma were evaluated in a surgical Upper GI cancer clinic. Of these, 18 cases fit eligibility criteria and 12 were consented. Ten cases were operated at the time of data submission (83% male, Age 62(39-86) yrs). Subtotal gastrectomy was performed in 9 patients (90%) and LOS was 4 (3-6) days. At least one SLN basin was identified in 9 cases (82%), with the most common number of SLN basins identified being 1 (0-3), and 3 (0-5) nodes were retrieved per SLN basin. In the two cases for which no SLN basins were identified, only blue dye injection was used, whereas SLNs were identified in all cases using the dual tracer method. Final T-stage was pT1b/T2 in 7 (70%), pT1a in 2 (20%) and HGD in 1 (10%). Two patients (20%) had lymph node metastases on final pathological analysis; in one of these a metastasis was identified in the SLN basins; the other patient underwent blue dye injection alone and no SLN basins were identified.

Conclusions
These results show success of SLN retrieval was 82% and accuracy of SLN biopsy in predicting nodal metastases was 100%. The dual tracer method was superior to single agent blue dye in identifying sentinel nodal basins. Although promising, further study is necessary to verify the safety and utility of SLN mapping in North American patients with early gastric adenocarcinoma.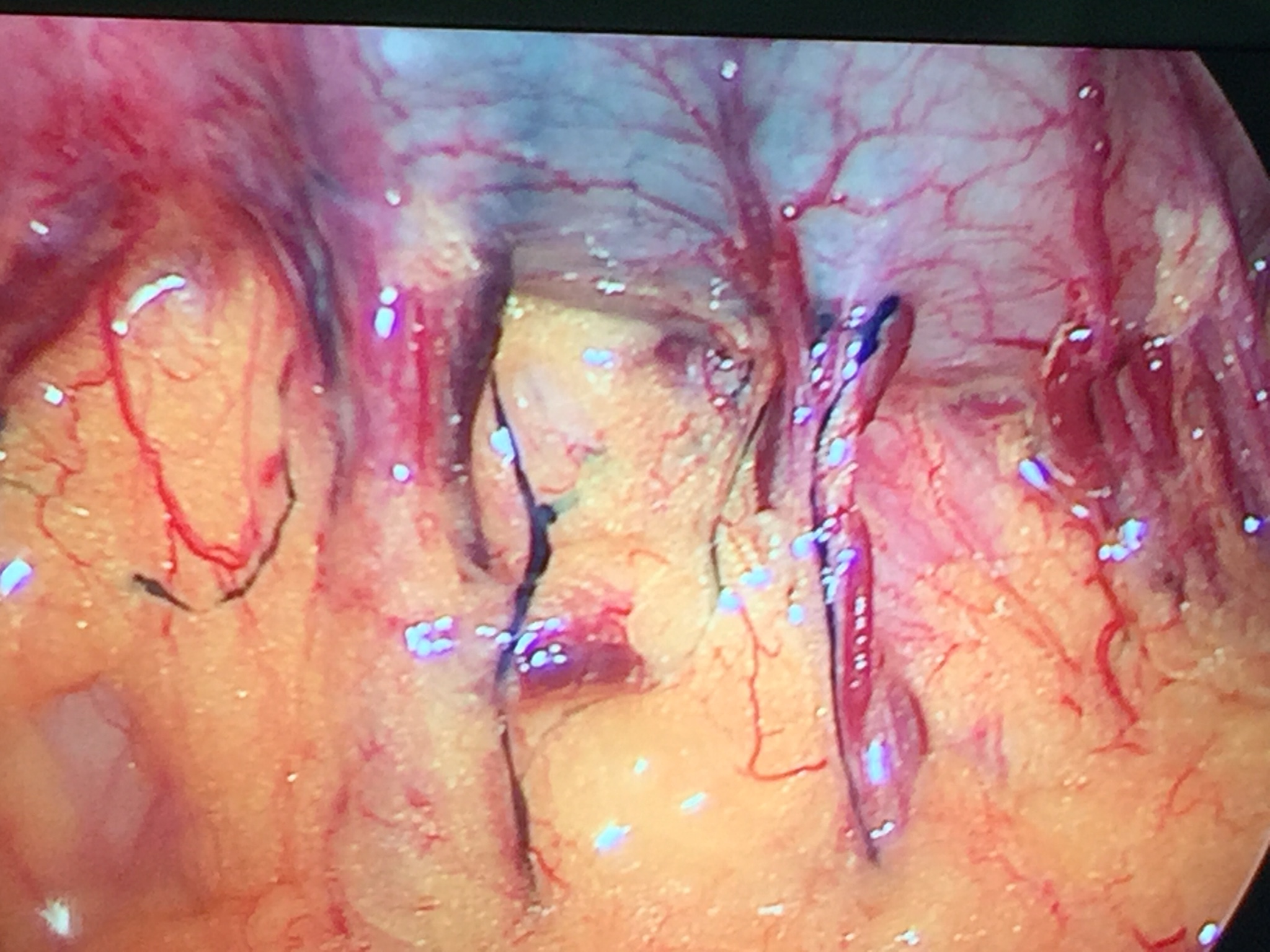 Laparoscopic view of right gastro-epiploic (Station 6) lymph nodes coloured by methylene blue dye 20 min after endoscopic submucosal injection.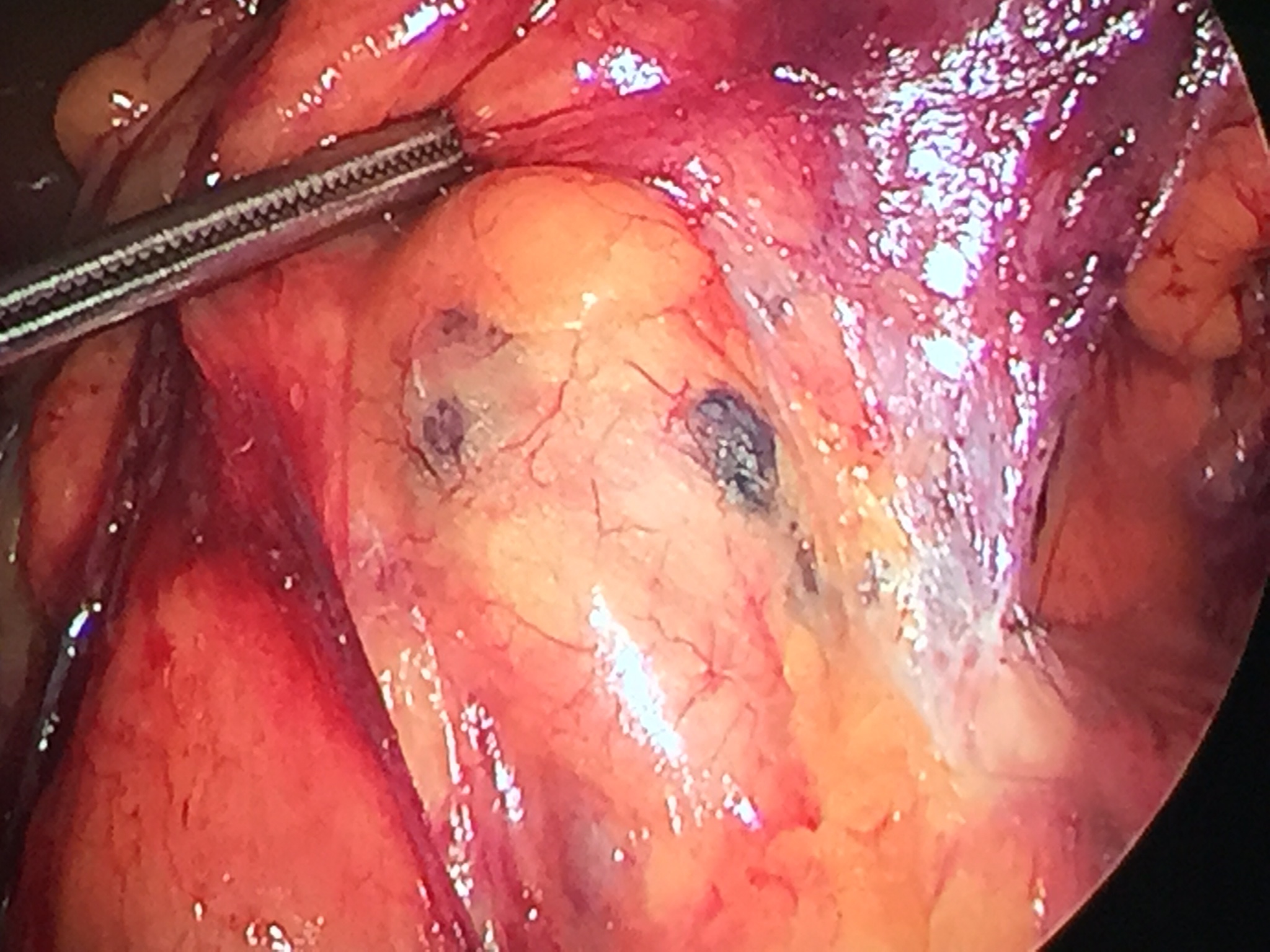 Laparoscopic view of right gastro-epiploic (Station 6) lymph nodes coloured by methylene blue dye 20 min after endoscopic submucosal injection.
---
Back to 2018 Program and Abstracts