Back to 2018 Program and Abstracts
---
LAPAROSCOPIC HELLER MYOTOMY VS PER ORAL ENDOSCOPIC MYOTOMY (POEM): EVOLVING CRITERIA FOR ACHALASIA TREATMENT SELECTION
Ahmed M. Zihni*1, Christy M. Dunst1, Thomas Knowles2,1, Filippo Filicori1, Walaa Abdelmoaty1, Rosen Ilchev1, Kevin Reavis1, Lee L. Swanstrom1, Steven R. DeMeester1
1Gastrointestinal and Minimally Invasive Surgery, The Oregon Clinic, Portland, OR; 2Surgery, Oregon Health & Science University, Portland, OR
INTRODUCTION:
Per Oral Endoscopic Myotomy (POEM) is an endoscopic therapy for functional esophageal outflow obstruction that has gained acceptance in recent years as an alternative to laparoscopic Heller (LH) myotomy or pneumatic dilation. Increasingly in the US, the decision regarding the choice of procedure is impacted by insurance denial rather than surgeon or patient choice. Few large studies have compared the outcomes of LH and POEM in patients who were candidates for either. The aim of this study was to compare outcomes in patients who were candidates for either LH or POEM.

METHODS:
The records from all patients (348) treated with esophageal myotomy for manometric esophageal outflow obstruction at our center from 2012-2016 were reviewed. Patients with additional concurrent procedures were excluded (Paraesophageal hernia repair, gastric bypass; 14 patients). Patients with hiatal hernia (57) were only offered LH and patients with diffuse esophageal spasm (14) were only offered POEM. These subsets were excluded from analysis. The final cohort included all patients who qualified for either LH or POEM per standard protocol. Complications were classified according to the Clavien-Dindo grading system. Leak was defined as radiographic uncontained extravasation requiring additional intervention to differentiate it from inconsequential contained contrast extravasation.


RESULTS:
There were 263 patients with uncomplicated manometric esophagogastric junction outflow obstruction (EGJOO) that were offered both LH and POEM. Of the 75 patients who underwent LH, 29 (38.7%) had chosen POEM but were denied by insurance. POEM was associated with significantly shorter operative time, hospital stay, less complications, less opioid use at discharge, and better relief of the primary symptom compared to LH. The frequency of long term re-intervention (re-operations, dilations) did not differ between groups, but an abnormal score on pH testing was more frequent after POEM (Table).


CONCLUSIONS:
In this direct comparison of patients that could have had either POEM or LH we found significant advantages in favor of POEM related to operative time, hospital stay and symptomatic outcome for patients. Disturbingly, almost 40% of patients who had a LH had wanted a POEM but were denied the procedure by their insurance provider. POEM should be an accepted option for patients with GEJOO and further insurance denial is unsupportable based on these results.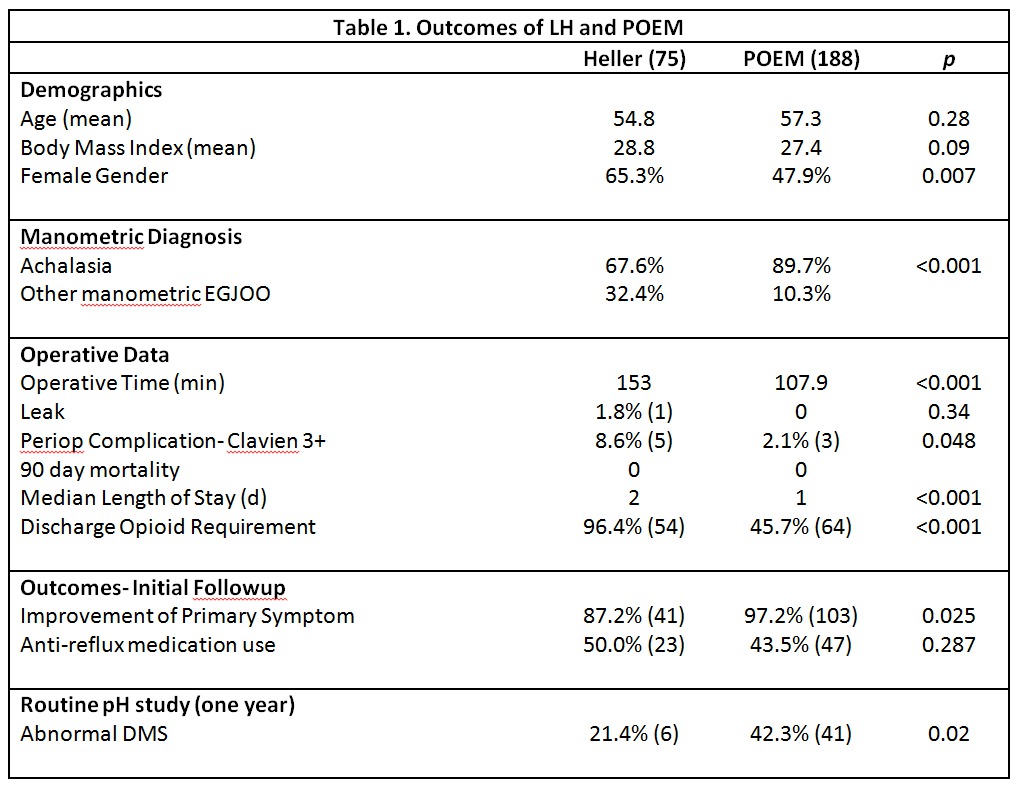 ---
Back to 2018 Program and Abstracts