Back to 2018 Program and Abstracts
---
SURGERY FOR METASTATIC ESOPHAGEAL CANCER: IS LONG-TERM SURVIVAL FEASIBLE?
Meredith A. Gunder*, Gustavo A. Rubio, Gregory Tiesi, Dido Franceschi, Alan S. Livingstone
Division of Surgical Oncology, University of Miami Miller School of Medicine, Miami, FL
Background: Metastatic esophageal cancer has a poor prognosis and is generally managed with palliative chemotherapy or radiotherapy. Median survival after chemotherapy for stage IV esophageal cancer ranges between 8 to 16 months. Role of esophageal resection in selected patients with a favorable response to definitive treatment has not been defined.
Methods: We performed a retrospective review of patients that underwent esophagectomy at a single academic center between 1999-2012. We identified patients who underwent esophagectomy after initially presenting with metastatic esophageal cancer and undergoing definitive chemotherapy, with subsequent radiographic evidence of resolution of their metastatic sites.
Results: Five patients with stage IV esophageal cancer and radiographic resolution of metastases in response to palliative chemotherapy underwent esophagectomy. All patients initially presented with solitary distant organ metastases, including liver (n=3, 60%), distal stomach (n=1, 20%), and bone (n=1, 20%). All patients underwent transhiatal esophagectomy. Complete (R0) resection was achieved in all cases. Final pathology demonstrated stage III in 2 cases (40%), stage II in 2 cases (40%), and stage 0 in 1 patient who had a complete response to chemotherapy (20%). There were no 30-day perioperative deaths, and median length of stay was 9 days (range, 7-26 days). Median survival after esophagectomy was 37 months (range, 14-62 months), with 1-year, 3-year, and 5-year overall survival of 100% (n=5), 40% (n=2), and 20% (n=1), respectively. Median survival from time of diagnosis was 48 months (range 24-73).
Conclusion: In a select group of patients with metastatic esophageal cancer and favorable response to chemotherapy, esophagectomy with complete resection may result in increased overall survival. The impact of surgery in these cases of metastatic esophageal cancer should be further explored.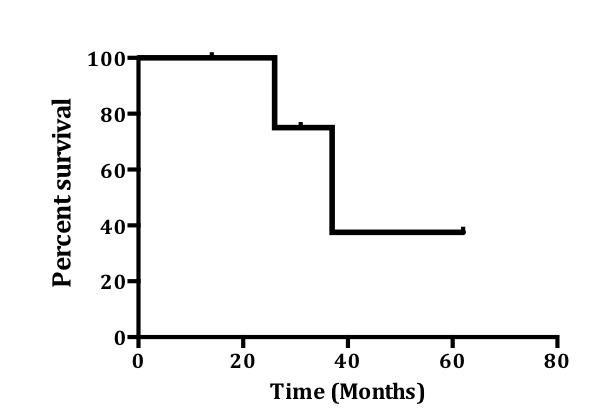 Figure 1. Kaplan-Meier curve showing overall survival after esophagectomy.
---
Back to 2018 Program and Abstracts