Back to 2018 Program and Abstracts
---
MULTIMODAL MANAGEMENT OF EARLY NEOPLASIA IN BARRETT's ESOPHAGUS: IS THERE STILL A ROLE FOR ESOPHAGECTOMY IN THE ERA OF ENDOSCOPIC TREATMENT?
Philippe Bouchard*, Serge Mayrand, Jonathan Spicer, Carmen L. Mueller, Lorenzo E. Ferri
McGill University, Montreal, QC, Canada
Introduction
Recent advances in endoscopic techniques have had a dramatic impact on the management of Barrett's esophagus (BE) with early neoplasia, largely supplanting esophagectomy. Although several treatment modalities can be employed, including endoscopic resection, ablation, and esophagectomy, hybrid approaches incorporating more than one type may be required. Much of the recent data on the management of this disease originate from RFA registries which views this disease from only one treatment perspective. We sought to investigate the outcomes of dysplastic BE and early neoplasia from an unselected population and evaluate the effectiveness of hybrid treatment approaches and the role of esophagectomy.
Methods
A prospectively entered database of all BE at a North American Referral Centre in a single payer system from 2006-16 were reviewed for pts with early neoplasia (dysplasia/intramucosal carcinoma/early invasive carcinoma). Demographic, pathologic, treatment, and short and long term outcomes were assessed. Treatment modalities employed over this period of time include ablation (RFA), endoscopic resection (EMR/ESD), and minimally invasive esophagectomy (MIE). A subset analysis was performed on pre/post introduction of RFA in 2011 at our institution. Data is presented as Median (IQR)
Results:
1326 pts had confirmed BE during the study period. 181 with early neoplasia were identified with worst pathology being LGD(54(30%))/HGD(47(26%))/IMC(19(10%)/pT1-2(61(34%)). Over the study period a total of 1195 gastroscopies were performed in these 181 pts including 136 RFAs 77 EMRs, 33 ESDs with a median of 8.5(9.5) endoscopies over a follow up period of 4.5 yrs (4.9). 60 pts received RFA (LGD 8(13%):HGD 52(87%)) with a median of 3(3) separate sessions. Of these, 30 underwent EMR, 4 ESD, and 8 EMR+ESD in addition to RFA (figure 1). Eradication of BE and dysplasia was obtained in 73.7% and 89.5% of pts who underwent RFA, +/- EMR/ESD. Two pts failed RFA - 1 persistent HGD and 1 progression to invasive cancer. There were a total of 36 MIE in the cohort, 15 prior to the introduction of RFA at our institution (2011) and 21 after. For the 21 MIE performed after RFA, reasons included ultra-long BE (13.5cm(3.5)) with multifocal HGD (4(19%)) positive margin for invasive cancer after EMR/ESD (9 (42%)), overstaging (uT1b/2) on EUS (4(19%)), pt patient preference (2(10%)), and failed RFA (2(10%)).
Conclusion
In this unselected population of patients with BE and early neoplasia, the majority of cases can be managed endoscopically, although hybrid approaches with EMR or ESD may be required for associated nodular high grade dysplasia or invasive cancer. However, even in the era of endoscopic therapies, esophageal sparing endoscopic approaches have a limit and esophagectomy should remain in the treatment armamentarium of this disease.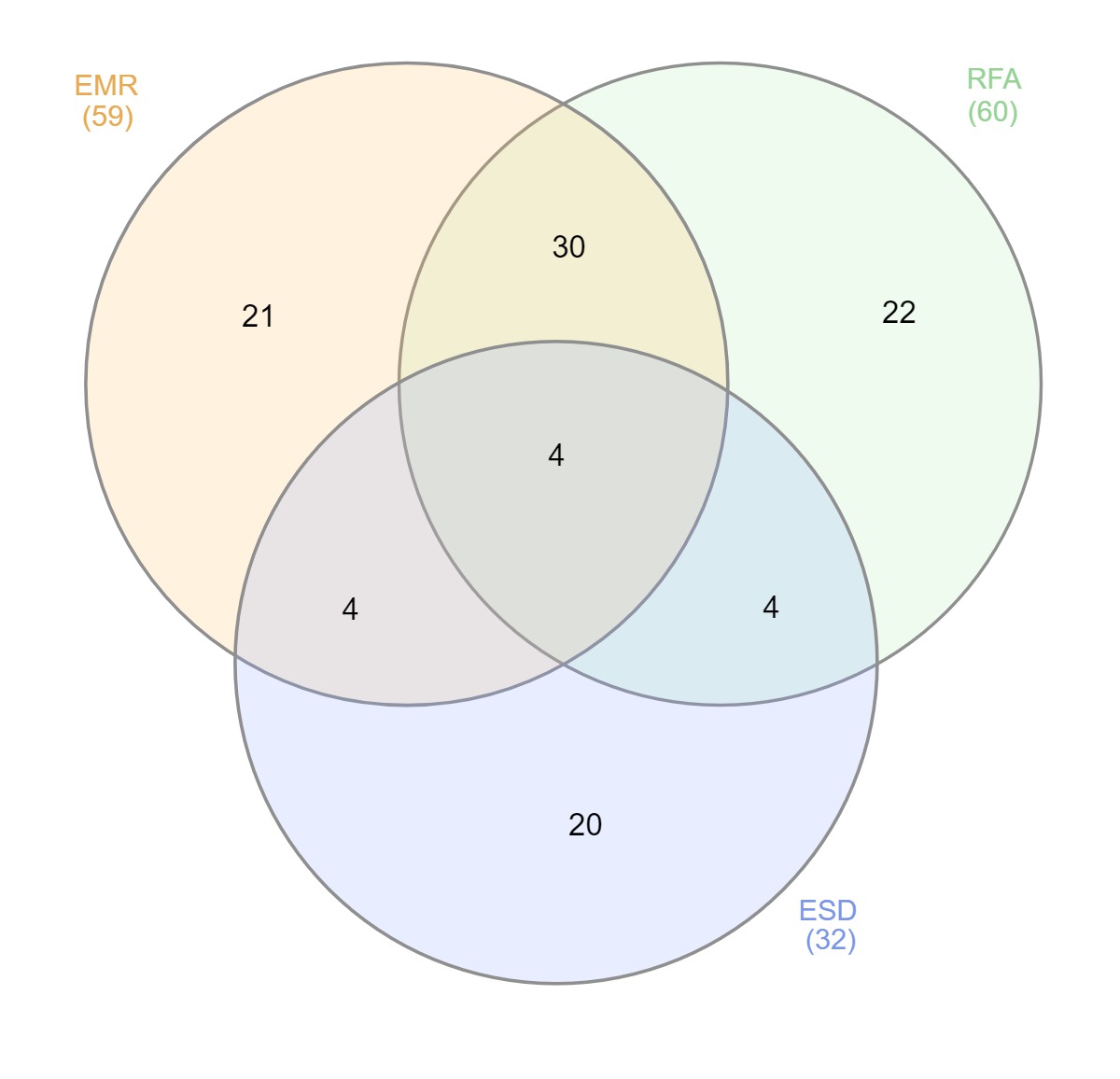 Treatment modality by patient
---
Back to 2018 Program and Abstracts