2008 Annual Meeting Abstracts
Back to 2008 Program and Abstracts
---
Prognostic Factors Associated with Survival Following Hepatic Resection of Early-Stage Hepatocellular Carcinoma
Hari Nathan*, Michael Choti, Richard D. Schulick, Timothy M. Pawlik
Surgery, Johns Hopkins Hospital, Baltimore, MD
Introduction: Factors associated with prognosis following resection of early-stage (≤5 cm) hepatocellular carcinoma (HCC) remain ill-defined. We sought to identify clinicopathologic factors that predict long-term survival in patients (pts) with early-stage HCC following hepatectomy.
Methods: The Surveillance, Epidemiology, and End Results (SEER) database was used to identify 921 pts with histologically confirmed early-stage HCC who underwent surgical resection (not ablation or transplantation) between 1988-2004. Prognostic factors were evaluated and survival was stratified according to a novel clinical scoring system.
Results: Median tumor size was 3.3 cm; 19% of pts had tumors ≤2 cm. Most HCC lesions were solitary (74%), low histologic grade (84%), and had no evidence of vascular invasion (78%). Hepatic resection consisted mostly of wedge resection (59%) or hemi-hepatectomy (35%). Overall median and 5-yr survival were 39 mos and 37%, respectively. After adjusting for socio-demographic factors and histologic grade, tumor size >2 cm (HR=1.9) and vascular invasion (HR=1.4) remained independent predictors of poor survival (both P <0.05). In contrast, tumor number (multiple vs single) had no effect on prognosis (HR=1.3, P=0.06). Based on these findings, a prognostic scoring system was developed that allotted 1 point each for tumor size >2 cm and vascular invasion. Using this system, pts with early-stage HCC could be stratified into 3 distinct prognostic groups (median and 5-yr survival, respectively: 0 points-60 mos, 49%; 1 point-38 mos, 37%; 2 points-23 mos, 24%; P<0.001)(Figure).
Conclusions: Although early-stage HCC is generally associated with a good prognosis, a subset of high-risk pts can be identified. Pts with early-stage HCC who have tumors >2 cm ± vascular invasion have a significantly increased risk of death. These data emphasize the importance of pathologic staging even in small HCC.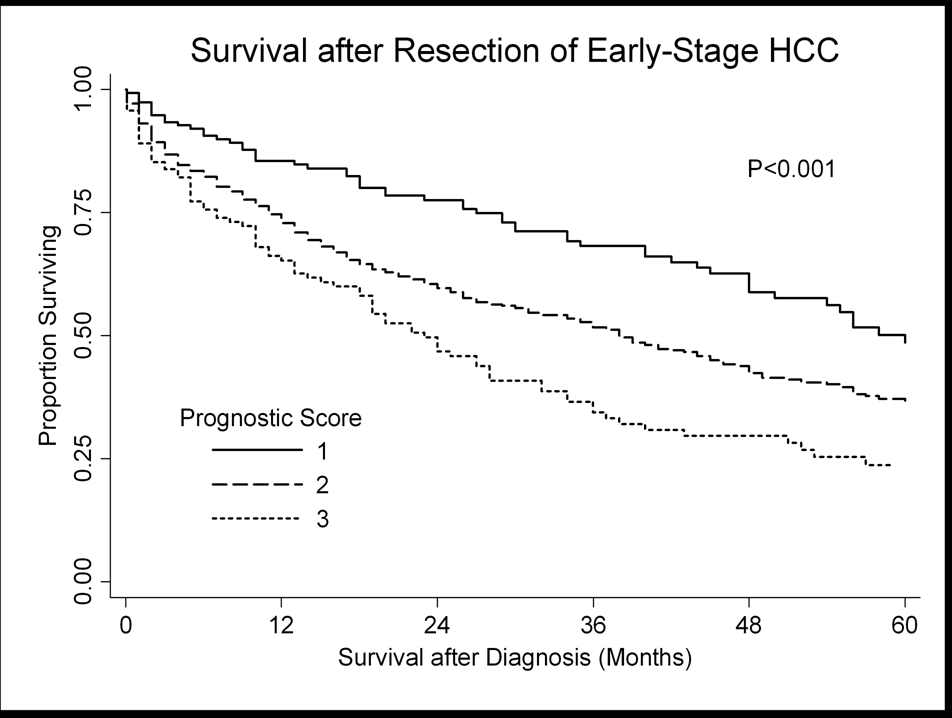 ---