2007 Program and Abstracts | 2007 Posters
---
Angiotensin II Mediates An Angiotensin Type 1 Receptor- ERK1/2- Dependent, P38- JNK-Independent Regulation of Vascular Endothelial Growth Factor in Pancreatic Cancer Cells
Hwyda a. Arafat*, Qiaoke Gong, Galina Chipitsyna, Charles J. Yeo
Surgery, Thomas Jefferson University, Philadelphia, PA
Background: Vascular endothelial growth factor (VEGF) is a crucial pro-angiogenic component in pancreatic ductal adenocarcinoma (PDA) and its high expression levels have been correlated with poor prognosis and early postoperative recurrence. We have recently shown that high levels of angiotensin II type 1 receptor (AT1R) correlate and colocalize with VEGF in invasive PDA, and that AngII induces VEGF expression in PDA cell lines. This study examined the role of AT1R in mediating the AngII-VEGF effects and the signaling mechanisms involved.
Methods: AT1R mRNA and protein in PDA cell lines PK9, Panc10.05, AsPC-1, and HS677T were analyzed by real time PCR and Western immunoblotting. VEGF in conditioned media and cells treated with or without AngII (10-7 mol/L) was measured by ELISA and real time PCR. Total- and phospho-ERK1/2, total- and phospho-p38, and total- and phospho- JNK MAP kinases were analyzed by Western immunoblotting.
Results: All cell lines expressed AT1R mRNA and protein. AngII-mediated induction of VEGF was significantly (p<0.05) inhibited by an AT1R antagonist, losartan, but was unchanged by an AT2R antagonist, PD123319. AngII-VEGF induction was inhibited by the tyrosine kinase inhibitor genistein, suggesting a mitogen activated protein kinase signaling mechanism. AngII activated the phosphorylation of ERK1/2, but not p38 or JNK. Inhibition of ERK1/2 activation by a specific MEK1/2 inhibitor U0126 reduced the AngII-induced VEGF expression.
Conclusions: These findings provide the first insight into an AngII-initiated signaling pathway that regulates PDA angiogenesis. An AT1R-mediated VEGF induction suggests the possibility of AT1R blockade as a novel therapeutic strategy to control angiogenesis in PDA.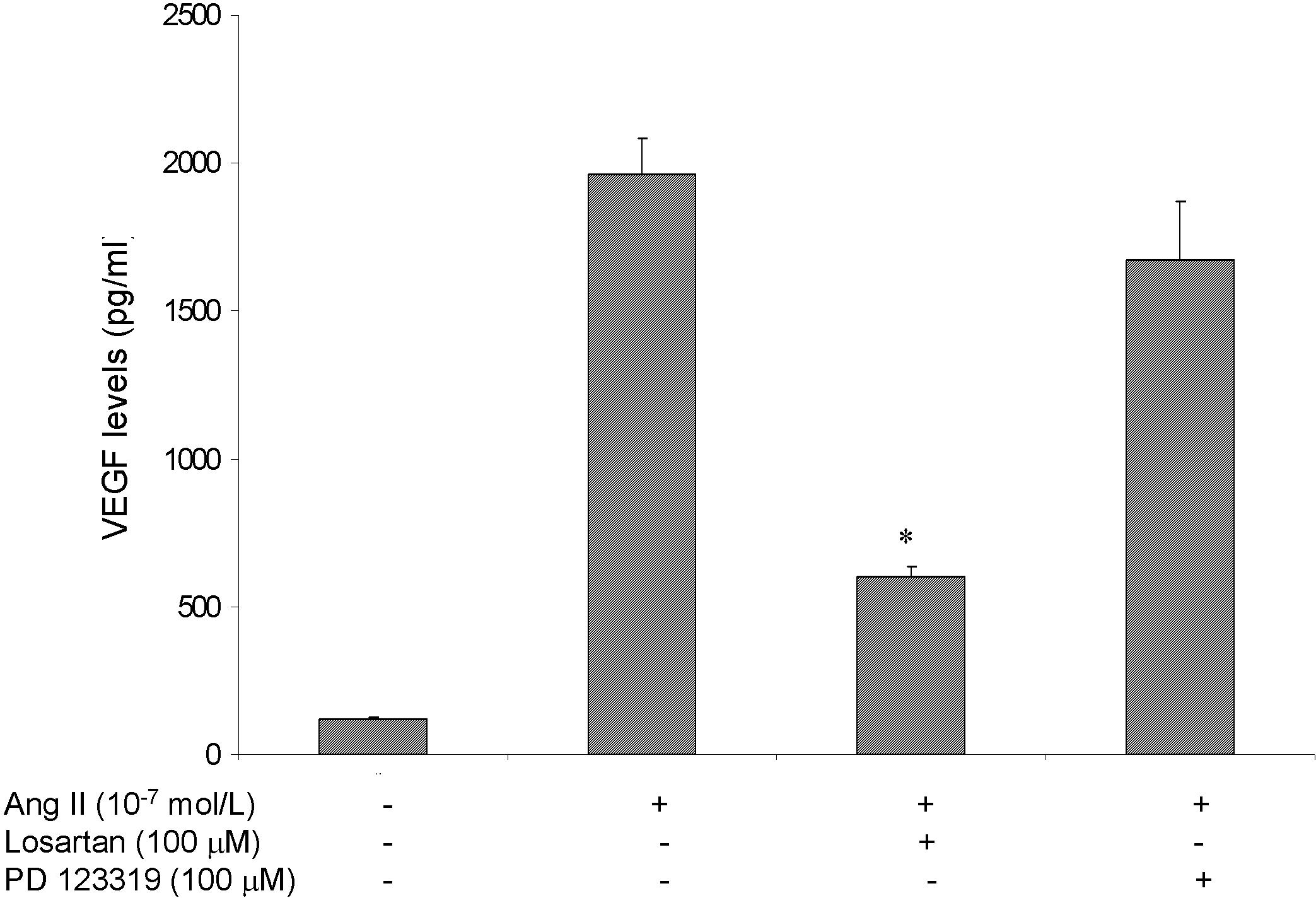 ---
2007 Program and Abstracts | 2007 Posters