2007 Program and Abstracts | 2007 Posters
---
Leukocyte MMP-9 Mediates Fibrous Capsule Formation Following Hepatic Radiofrequency Ablation in Mice
Sean P. Dineen*, Robert V. Rege, Tunc Gokasalan, Jason Toombs, Rolf Brekken, Carlton C. Barnett
Surgery, UT Southwestern, Dallas, TX
INTRO: Radiofrequency ablation (RFA) is a promising treatment in patients with unresectable liver tumors due to low morbidity and the ease of use. Unfortunately, development of a fibrous capsule surrounding the zone of ablation inhibits subsequent delivery of chemotherapy. Additionally, post-RFA inflammatory responses may promote local tumor recurrence. We propose that leukocytes affect extracellular matrix (ECM) remodeling and encapsulation at the margin of ablation. Leukocyte matrix metalloproteinase (MMP-9) is an ECM-modifying enzyme known to promote tumor growth. We hypothesize that leukocyte MMP-9 mediates early fibrous capsule formation following RFA.
Methods: To test our hypothesis, non-tumor bearing C57BL/6 mice underwent RFA of 10% of the hepatic parenchyma for 30 seconds at 90°C while under general anesthesia. SHAM animals underwent the same surgical procedure without the generation of heat. Animals were sacrificed at 24 or 72 hours (n≥ 6 all groups). At necropsy, the organs were fixed in 4% formalin or snap-frozen in liquid nitrogen. H&E and trichrome preparations were made on formalin fixed sections. Immunohistochemistry (IHC) for MMP-9 was performed on frozen sections.
Results: At 24 hours, there was a marked increase in leukocytes at the margin of the ablated zone and at 72 hours, marked collagen deposition was seen on trichrome staining. Leukocytes were the predominate cells at the interface of the viable and ablated zones. IHC for MMP-9 at 72 hours was greater in the ablated vs. the SHAM group (20.25 ± 3.772/hpf vs 4.9 ± 1.67/hpf; n≥4 hpf, p < 0.05).
Conclusions: This study shows that RFA leads to the development of a collagen-containing capsule at the interface of the ablation zone. Further, these data suggest that leukocytes contribute to this process via MMP-9.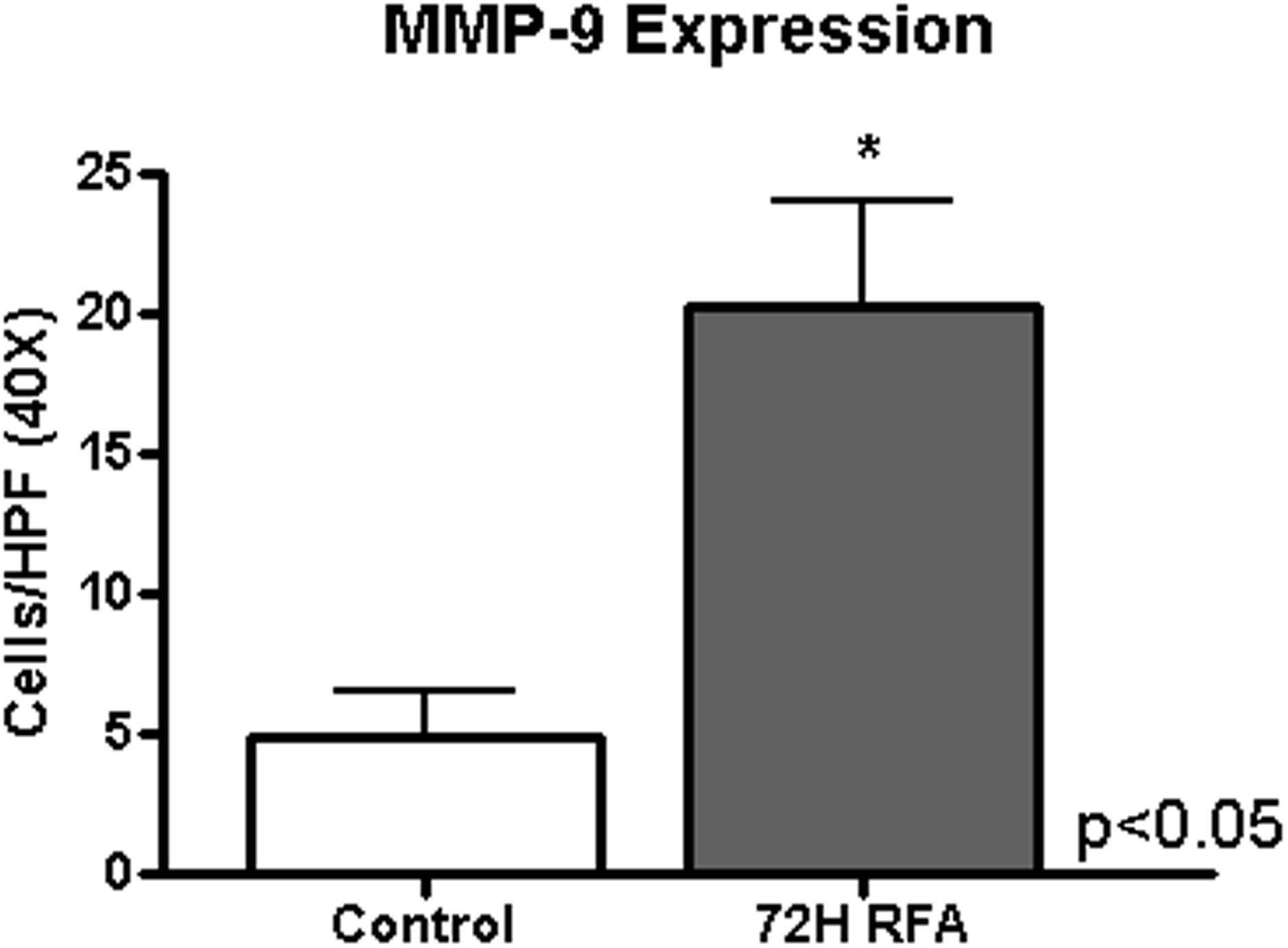 ---
2007 Program and Abstracts | 2007 Posters