Back to 2007 Program and Abstracts
---
Systemic Chemotherapy and Two-Stage Hepatectomy in Patients with Extensive Bilobar Colorectal Liver Metastases: Perioperative Safety and Survival
Yun Shin Chun*1, Jean-Nicolas Vauthey1, Dario Ribero1, Matteo Donadon1, Cathy Eng2, Thomas D. Brown2, David Z. Chang2, Linus Ho2, Steven a. Curley1, Eddie K. Abdalla1
1Surgical Oncology, M.D. Anderson Cancer Center, Houston, TX; 2Gastrointestinal Medical Oncology, M.D. Anderson Cancer Center, Houston, TX
Background: Two-stage hepatectomy has been proposed for pts with bilobar colorectal liver metastases(CLM). The aim of this study was to compare the outcome of pts with CLM treated with preoperative chemotherapy followed by 1- or 2-stage hepatectomy.
Methods: From a prospective database of 916 pts who underwent hepatic resection for CLM (1998-2006), 190 consecutive pts who received preoperative systemic chemotherapy (fluoropyrimidine with irinotecan or oxaliplatin) followed by planned 1- or 2-stage hepatectomy were retrospectively analyzed. In pts undergoing 2-stage procedures, minor hepatectomy (wedge or segmental resection[s]) was systematically performed prior to major (> 3 segments), 2nd-stage hepatectomy. Preoperative portal vein embolization(PVE) was performed if indicated.
Results: One-(group I) and 2-stage(group II) hepatectomy was performed in 170 and 20 pts respectively. Median number of metastases in groups I and II were 2 (range 1-20) and 7 (range 2-16). All pts in group II had bilobar disease vs 39% in group I. Major hepatectomy was performed in all pts in group II and 79% in group I. PVE was performed in 30 pts (group I n=18 and group II n=12) without increase in morbidity. For group I, group II 1st-stage and group II 2nd-stage respectively, morbidity (32%,20%,40%), median hospital stay (7 d,6 d,6.5 d) and 90 d postoperative mortality (2%,0%,0%) were not significantly different (P=NS). Median follow up was 25 months;median survival has not been reached. One and 3-year overall and disease-free survival from time of hepatic resection was 94% and 73%, 63% and 43% respectively in group I; 100% and 89%, 60% and 45% respectively in group II (P=NS,Fig).
Conclusions: Two-stage hepatectomy with preoperative chemotherapy results in comparable morbidity and survival rates as 1-stage hepatectomy. This approach offers the potential for curative resection in pts with liver-only advanced bilobar CLM.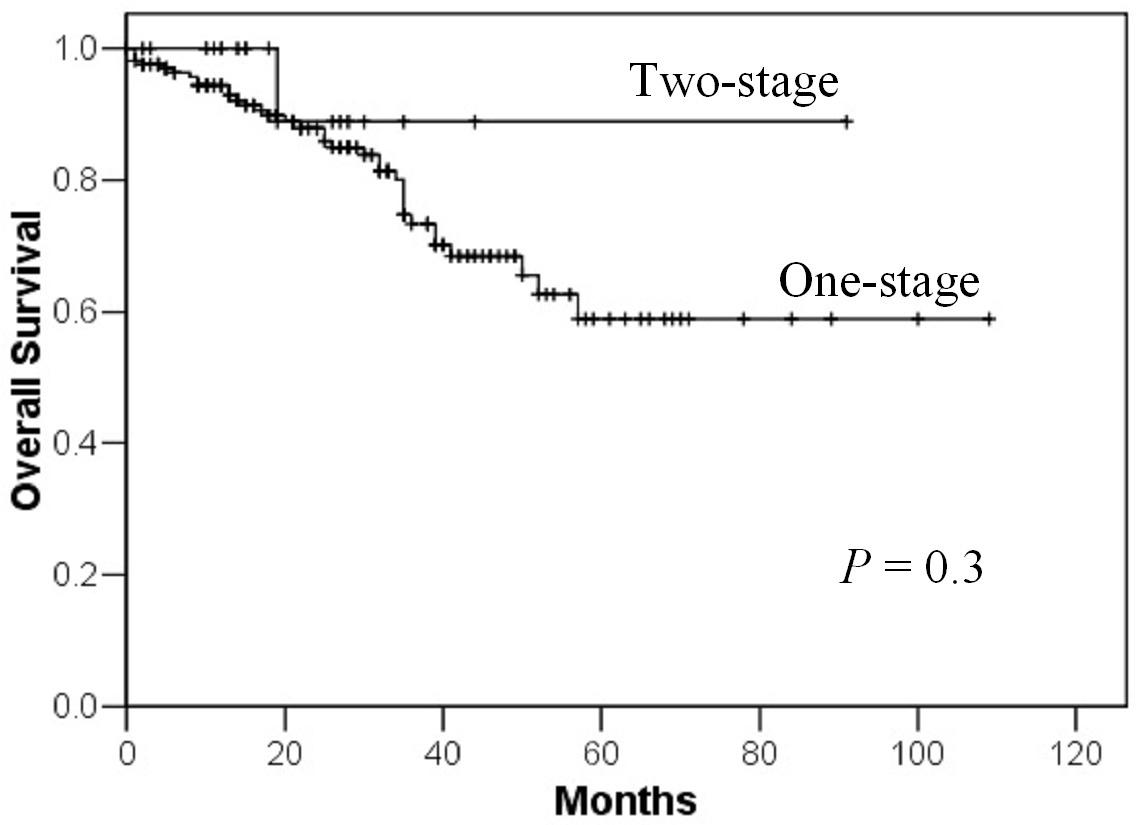 ---
Back to 2007 Program and Abstracts